FBC has been blessed with several authors. The latest is Jared Lockhart who co-authored a book entitled Timeless Church published July 1. Here's a brief interview I did with him.
Jared, for those in our church who don't know you, introduce yourself.
My name is Jared Lockhart. I have been a member of FBC for about three years serving both as a small group leader with the student ministry and with the greeter ministry. I just finished up a Master of Divinity at Liberty University. I also work as a Program Editor for LU's Center for Academic Development. My wife's name is Courtney; please say hi when you see us around.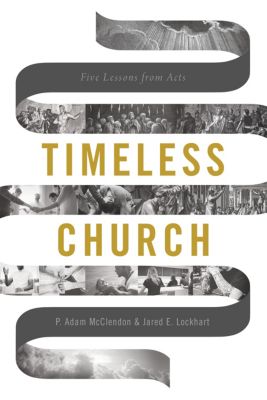 You recently co-authored a book entitled Timeless Church published by B&H. What's it about in 20 words or less.
The book is a look at five principles from the text of Acts that we argue have application today.
(Now that you've passed that test, I'll give you one paragraph to summarize it.)
In the book, we seek to show that the early church was characterized by confessing, gathering, praying, giving, and engaging. Our aim is to argue that these should also accurately describe the modern church seeking to be faithful followers of Jesus Christ. The approach we take is to ground each point thoroughly in scripture and then make a clear application to the church today.
The title sounds like it's something for pastors. Why would an everyday church member want to read it?
The intended audience of the book is primarily new believers or cultural Christians who want to get more serious in their faith. With that being said, we think it can also be beneficial for those who are mature Christians but simply desire to 'get back to basics.' It is also designed to be used in small group discussion settings with discussion questions and a devotional at the end of each chapter. The goal was to produce an entry-level work on the church that one could hand to just about anyone.
Your co-author is Adam McClendon, who happens to be one of my neighbors. Do you have any dirt on Adam that I can use to blackmail him with? (Just kidding.) Adam is a wonderful man. How'd you two join up together for this?
Sorry, no dirt. I wholeheartedly agree and my opportunity to participate in the project only came about because of his kindness. I took a class on 1&2 Corinthians that he was teaching and he approached me part way through the class about teaming up for this project. Because of the class, we were already occupying much of the same headspace that the book would occupy, and he was able to see that we pretty much agreed on some of the major points of interpretation.
Much of your work is rooted in the book of Acts. If the praying, gathering, and giving are timeless…are the tongues and miracles too? 
I was hoping I'd get out of this question since we didn't address it in the book. I would say that the gift of tongues functions in a very specific way in the New Testament era, namely, to show to Jewish believers that the Gentile converts are truly believing in the Messiah. The proof is that they have received the same spirit empowering them (this dynamic can be seen in Acts 19 and perhaps Acts 8). I would thus argue that since the church has moved past this period of transition, so too the gifts that functioned in this way. I lean toward the position that some of the gifts (such as tongues, miracles, apostleship) are not timeless (but would note that God still does miracles today; I just don't see it as a continuing gift of individual church members).  What is timeless is that the one body gathers to worship in one spirit. I am certain I will continue to clarify my thinking as I read and study God's word in the years ahead. Additionally, I am always willing to discuss these issues.
What is your favorite line from the book? Why?
"Sunday morning is not when we are at church. Sunday morning prepares us to be the church: both when gathered and when scattered." This line summarizes a chapter on the church as a gathering people. This chapter gets to what I think is at the heart of who the church is and why it matters for us today.
What did you enjoy most and least about writing it?
I really enjoyed the writing process even as it was exhausting. Learning about how books get published and seeing behind the curtain, as it were, on that industry was also interesting. I rather disliked the many laborious rounds of edits that the manuscript went through (though I'm sure the reader will appreciate it).
Do you have plans to do any more writing? 
I do not have any immediate or concrete plans though in the future I would absolutely be interested in writing again.
What if someone wants to read or buy it – where can they find it or learn more?
You can buy the book online or in stores wherever you buy books (Lifeway, Amazon, Barnes and Noble, etc.). Feel free to reach out to me; I would be happy to talk about the book and the ideas discussed in it!